Loans: English Version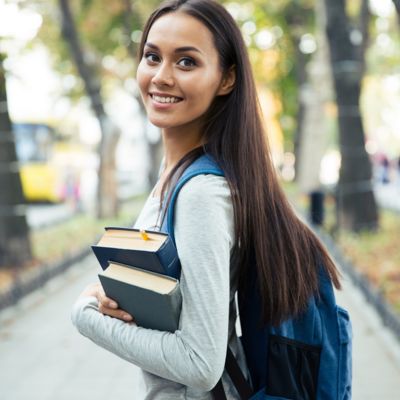 LOANS FOR FEMALE STUDENTS AND WOMEN WITH EDUCATIONAL PROJECTS
The Hildegardis-Verein e.V.
We are the oldest association for the promotion of women's studies in Germany. Our association was founded in 1907 by Maria Schmitz, a teacher and politician from Aachen, and other committed Catholic women in Cologne.
For more than 110 years we have been committed to the advancement of women.
For us, that means:
Supporting women extensively in acquiring academic qualifications and
encouraging them to achieve their professional goals and utilize their potential.
We deliberately provide support in areas where there is no public funding because we understand learning to be a lifelong process that should not fail because of financial issues. With our work, we want to support women in their individual life situation as well as to create a social and political framework that gives them equal opportunities in terms of their lives and education in Germany.
Since our founding, we have supported approximately 1500 women. They also benefit from our network, which has grown over the years and includes all generations from young to old.
The Hildegardis-Verein is run by an honorary board of directors and is supported by a selection committee in the granting of loans. The daily work of the association is done by our office in Bonn.
WHY DO WE SPECIFICALLY SUPPORT WOMEN?
In the year the Hildegardis-Verein was founded, women in Prussia were not yet allowed to study at university. They therefore had no access to academic education. This led to disadvantages in many other areas of life, such as family and career.
Since the beginning of the 20th century, the situation for women in Germany has improved enormously. This is thanks to the countless people who have worked for gender equality and equal rights over the years. Rooted in the founding mission of the Hildegardis-Verein to support Catholic women in their studies, we continue this mission and have extended it to women of every Christian denomination.
Today, women still face specific and systemic challenges and disadvantages in education and employment: Compared to men, they earn less, are more likely to care for children and relatives, and are less likely to hold leadership or board positions.
We therefore want to make women visible in church and society and help them have equal opportunities on their educational, career and life paths, because we believe in our motto:
BILDUNG VERLEIHT FLÜGEL
(Education enables to fly)
APPLICATION FOR A LOAN
REQUIRED DOCUMENTS:
Application form + photo
Cover letter + resume
Financing plan
Copies of certificates / transcripts
Possibly certified translations to documents in non-German language
Expert opinions:
- Expert opinion of a pastoral counselor (e.g. from university / local parish)
- Expert opinion of a teacher
Above all, we would like to know from you:
Who are you?
What do you bring with you?
What do you hope to achieve?
Application requirements can be a deterrent. The Hildegardis-Verein wants to be a place where you fit in with all your qualities.
Feel free to contact us!
HOW DO WE PROMOTE?
interest-free
in monthly amounts of 250 € or 500 €
up to a maximum total amount of 10.000 €
strength-oriented and inclusive
with access to a nationwide network
accompanied by network meetings and women's forums
WHO DO WE PROMOTE?
Women
of any age
of any nationality
with any family situation
with any career goal
of any field of study
with any degree
of any Christian denomination
WHAT DO WE PROMOTE?
Study
All degrees: Bachelor, Master, state examination, diploma
Study completion phases
Semester abroad
Profession
Learning a trade
Further job-related training
IMMEDIATE AID
Loans for female students from Ukraine
Special loans in response to crises (e.g. Corona)
On the basis of the written documents, which also include a pastoral care report and a university report, the selection committee of the association, together with the board of directors, decides on an invitation to a personal interview. Subsequently, the final acceptance or rejection is issued. Rejections are not justified.
In the case of a positive decision on admission, the presentation of a directly enforceable guarantee by a German citizen to secure the loan is required as a prerequisite for the disbursement of the loan. The borrowers are obliged to submit regular reports on the progress of their studies.
The application deadline is June 30 and December 31 respectively.
You have a visual impairment?
Then you can download this flyer as a PDF or a Word Document on www.hildegardis-verein.de/darlehen.html !
You can find more information about the application at www.hildegardis-verein.de/darlehen.html
CONTACT
Do you have questions about the loans or about our association? Please contact us! We are happy to help.
Hildegardis-Verein e.V.
Wittelsbacherring 9
53115 Bonn
Tel.: 0228 96 59 249
We are looking forward to meeting you!